Microsoft is giving early users a sneak peek at its AI assistant for Windows 11, Windows Copilot with Bing Chat. The program is available as part of an update in the Windows Insider Dev Channel.
The preview release focuses on improving the user experience of the Windows user interface. For example, it is possible to switch to dark mode or take screenshots via text command. More features are planned for future previews.
To use Windows Copilot, you must be running Windows build 23493 or later and Microsoft Edge version 115.0.1901.150 or later. To launch Windows Copilot, click the new button on the taskbar or use the "WIN+C" shortcut.
The AI ​​assistant then appears as a docked sidebar on the right side of the screen, and users can enter instructions or ask questions about features. For example, you can use a text command to turn on Dark Mode or Do Not Disturb, take screenshots, summarize a Web page, or even create stories or pictures on specific topics.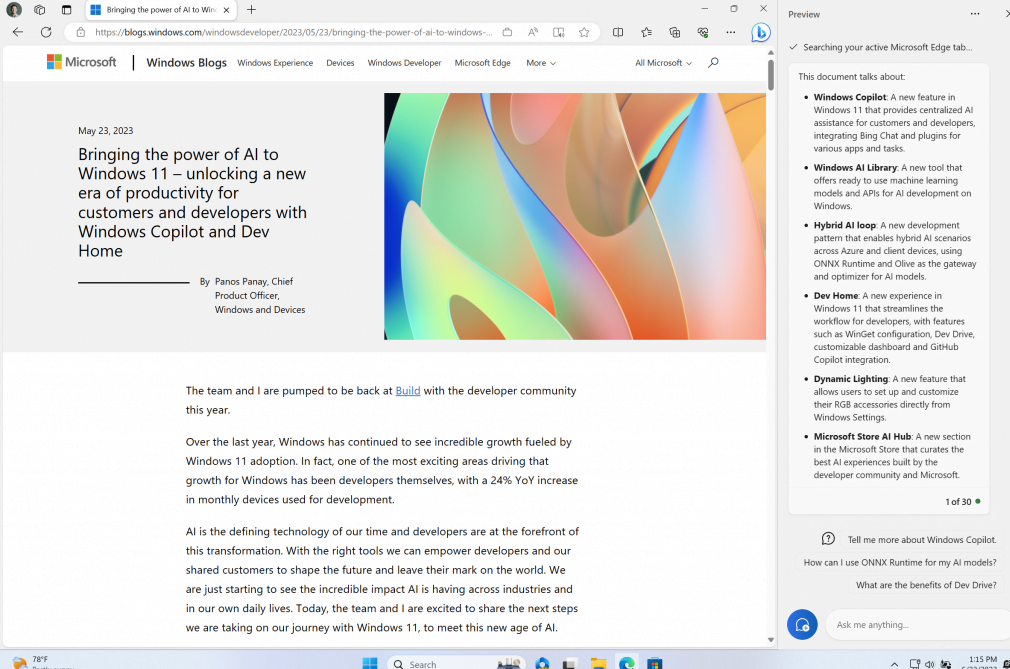 Microsoft plans to roll out the preview to more Windows Insiders over time, and to add guidelines for IT administrators on how to manage the AI ​​assistant in their organizations. In the future, the Windows Chatbot should support third-party apps; currently, only native Windows features are supported.
Microsoft is testing chatbot ads
Microsoft has also hinted at how it plans to monetize the chatbot: it'll display "inline recommendations we think are relevant" in the chatbot's responses. Microsoft also places ads in Bing Chat. Users can provide feedback to Windows Copilot by clicking the "…" icon in the top right of the sidebar.
Microsoft first introduced Copilot in late May. The assistant is designed to make "every user a power user," and could eventually integrate directly with Bing Chat and Internet search.
Connecting the Windows and Office ecosystem to web search via a chatbot could prove to be a competitive advantage for Microsoft. If users no longer have to think about which search engine or assistant to use, since they already control everything from file searches to vacation planning through Windows Copilot, Bing may have a chance to compete with Google.