Google's latest quarterly results have dispelled any fears of an imminent decline in Google's Internet dominance in favor of chatbots. In part, that's because Google itself is strong in AI.
Alphabet CEO Sundar Pichai highlighted the company's new "Search Generative Experience" (SGE) AI search, which has been rolling out to early users in the U.S. for several weeks.
Feedback so far has been "very positive," he said on the quarterly earnings call. SGE can better answer existing questions, as well as entirely new ones, and provide a more personalized experience that considers multiple individual factors, such as before a purchase decision is made.
"I think we are definitely now able to serve, I would say, deeper and broader information use cases, which is very exciting," Pichai said.
He added that the SGE has also improved technically, with AI answers now being generated twice as fast as when it launched in May. Google's Bard chatbot has also gained new capabilities since its launch, he added. Looking ahead, Pichai highlights new multimodal capabilities with Gemini, Google's next-generation multimedia LLM.
Right now, Google's commitment to the open Web is just lip service
"We're engaging with the broader ecosystem and will continue to prioritize approaches that send valuable traffic and support a healthy, open web," Pichai says.
The new SGE is a "jumping-off point for exploring the web," says Pichai, a statement that remains lip service without concrete metrics and guidelines. People's time is limited, and if they spend more time in Google's search ecosystem, it will most likely be at the expense of traditional sites – the open web.
According to Pichai, SGE will be rolled out to more and more users, and "over time this will just be how Search works." Google's monetization strategy remains advertising, and as I've argued before, the company is obviously trying to, and can, maximize profits on the old and potentially new, more chatbot-based Internet.
And why wouldn't they, it's not like other big tech companies like Meta, Apple, or Amazon care about the open web. Microsoft is more or less trying to build its own SGE with its Bing chatbot, but the thing is, even the crazy ChatGPT hype hasn't changed the fact that people don't use Bing.
Recommendation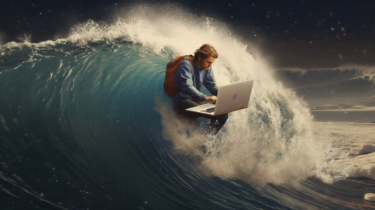 In the U.S., publishers like the New York Times are banding together and preparing a billion-dollar lawsuit because they fear being squeezed out of the web by Google's AI ambitions – based on their data, some of which has been used to train AI. Google is already being sued by authors, and OpenAI recently struck a deal with AP to license at least some news content for AI training.
Otherwise, Google's quarterly results pleased investors, with the stock up about eight percent after the announcement. The search advertising business is growing again at five percent, and YouTube is also back in growth territory at 4.4 percent, despite increasing competition from Instagram and TikTok. Google's strongest growth driver remains its cloud business at 28 percent.
Alphabet's free cash flow is $22 billion. In other words: Google is still printing money.