Agent-1 may soon be able to operate any software. Initially, the AI model will launch as part of a browser extension.
Matt Shumer, CEO of HyperWriteAI and OthersideAI, has announced a foundation model called "Agent-1". It is supposed to be able to operate software like a human. A scientific paper is still missing, but he demonstrated the capabilities in a video.
Current AI models such as GPT-4, and even next-generation models that have not yet been released, are unable to reliably operate software and programming interfaces, Shumer said.
Introducing `Agent-1`: a breakthrough foundation model that can operate software like a human.

This is the brain powering Personal Assistant.

We're already well above previous state-of-the-art, and we're improving massively each week.

More details: pic.twitter.com/WTg4Ft6dQZ

— Matt Shumer (@mattshumer_) August 2, 2023
Cost and speed are also major issues with the complexity of software operations, he said. "Agent-1" aims to solve this problem. Shumer promises much: "We're already well above previous state-of-the-art, and we're improving massively each week."
Chrome plugin integration
Agent-1 is expected to be integrated into HyperWrite's Personal Assistant in the next few updates. It is a browser extension that provides a website-independent AI text generator.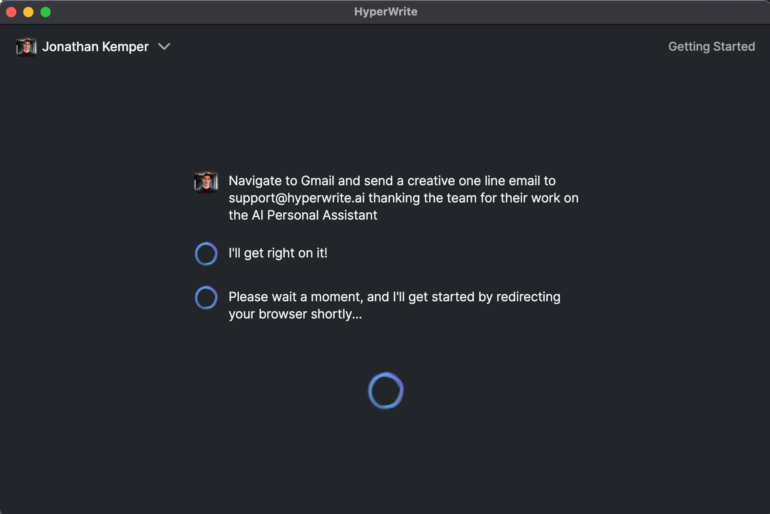 At the end of June, Shumer unveiled a very early version of Personal Assistant, which can perform simple browser tasks such as sending an email or ordering food.
Agent-1, however, could take on much more complex tasks. In Shumer's demo video, you can see Agent-1 controlling a Google Cloud dashboard.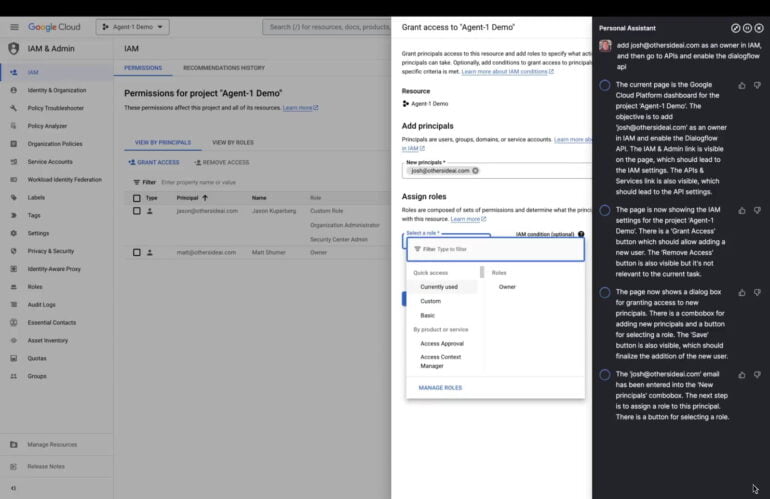 "Dynamic thinking
"Current models store lots of knowledge, leaving fewer parameters for reasoning," he explains. "Instead, we aim to put all of the model's horsepower to work on dynamic reasoning."
This "dynamic reasoning" approach, he says, allows the model to handle situations for which it has not been trained. Shumer set the bar pretty high for Agent-1:
Recommendation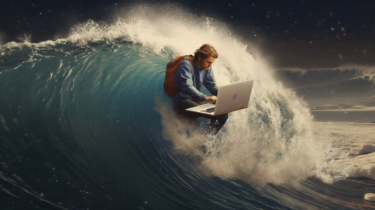 Our goal is to surpass human ability — an assistant that can operate any software and reliably accomplish complex goals on a user's behalf.

Matt Shumer, CEO of HyperWrite
As with any AI agent, bugs are to be expected, but Shumer promises that Agent 1 will get better over time, learning as it goes. The next few weeks will tell us if Agent 1 lives up to Shumer's promises – other than the short video, there's no other information to back up his claims.
What was ACT-1 again?
Agent-1 is very reminiscent of Adept's demo of ACT-1. The US startup hasn't been heard from much since its announcement in September 2022, aside from a $350 million Series B funding round that closed in March. Its founders include former researchers from Deepmind, Meta, and Google, one of whom was an author of the Transformer architecture that now underpins models like GPT-4.
Recently, Berkeley University and Microsoft Research also introduced Gorilla, a large language model that has been trained on 1,600 programming interfaces and is capable of operating software.